Pablo Jofré
translated by David Shook
Regular price
Sale price
$11.00 USD
Unit price
per
Sale
Sold out
Translated from Spanish by David Shook
with a Prologue by Will Alexander
Paperback, Bilingual edition, 84 pages
ISBN: 978-1-947322-99-8
$14.00
Pablo Jofré's alphabet begins with Abyss and travels through Caravan, Jewel, and Narcolepsy before arriving at Xenophobia, charting the Berlin-based Chilean poet's obsessive exploration of the world around him through the lens of politics, relationships, and travel. Awarded the Gabriela Mistral Chilean National Literature Contest for his book Abecedario originally in Spanish, this English-language edition, Abecedary, is supported by the Chilean government's prestigious National Council of Arts and Culture Translation Support Grant.
Praise for Abecedary

"Jofré's vision empowers his alchemical expression, swirling as it does his personal monsoon of droplets that casts spells seemingly closer in technique to the creative dossiers of Enrique Lihn and Nicanor Parra. Abecedary condenses via poetic semaphore lingual neutron stars penultimate to incalculable eruption." —Will Alexander, from the Prologue: Quantum Lingual Deftness

"Surely the dream—and nightmare—of many Western writers since the birth of modernity has been to write and impose their own personal dictionary. Some attempt it sneakily; others, head on. Pablo Jofré writes head on and knows what confronts him: he must display his words, which belong forcefully to others too." —Sergio Gaspar

"Pablo Jofré has already staked a claim on our language—plural, tribal—from which he takes the words that he will make his… the author has constructed a small verbal work, his puzzles of words that he has ordered alphabetically… Abecedary is not sloppy, piled words, but rather a fi nely knit weaving…" —Elvira Hernández
View full details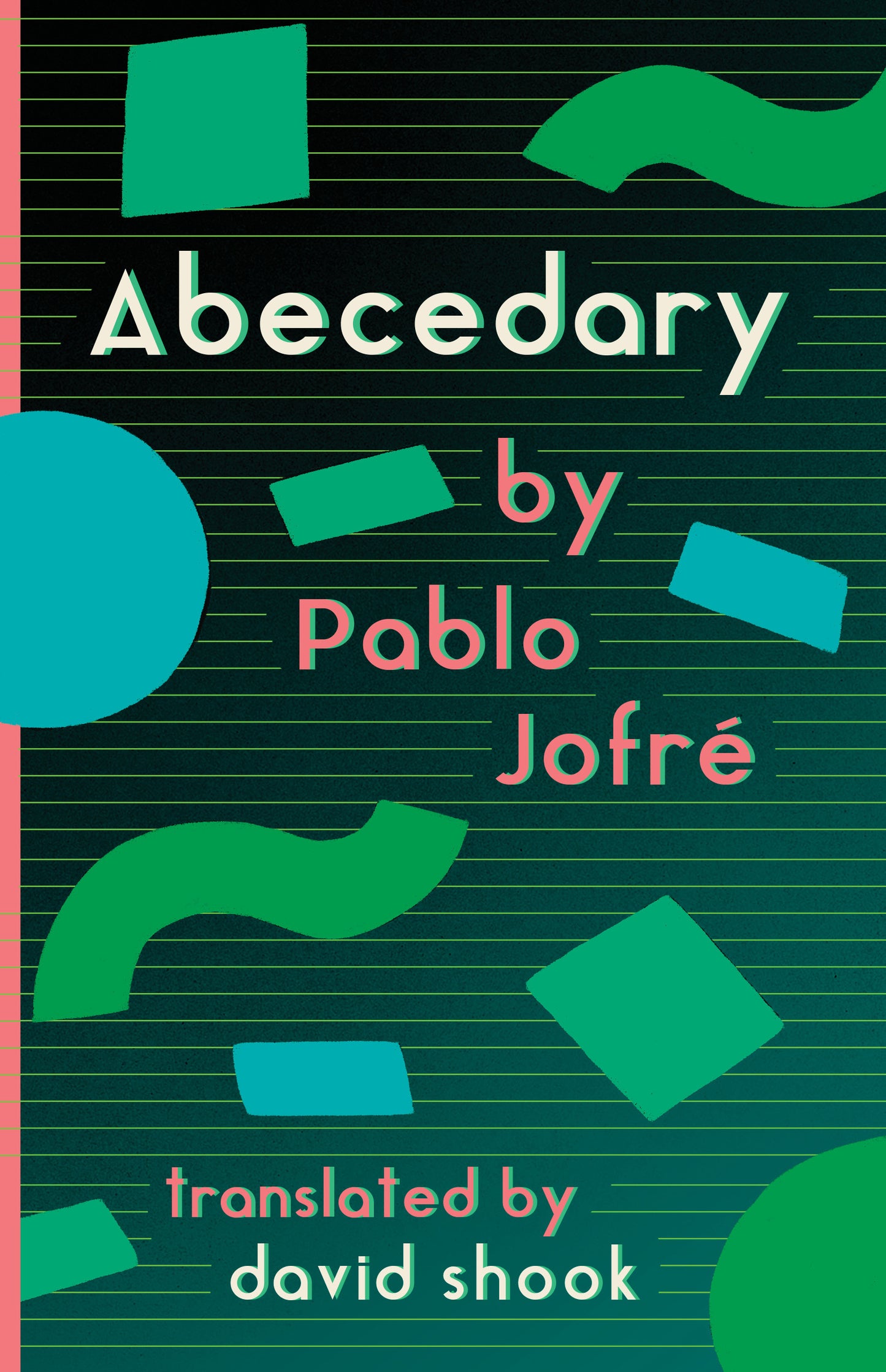 Translation missing: en.David Shook
Poet David Shook has translated or co-translated books by Latin American writers Mario Bellatin, Jorge Eduardo Eielson, Kyn Taniya, Tedi López Mills, Salvador Novo, and Víctor Terán, as well as smaller selections of poetry and prose by writers from over twenty-five countries in Latin America and Sub-Saharan Africa. Shook is a 2017 National Endowment for the Arts Translation Fellow for his work translating the selected poems of São Tomé and Príncipe poet Conceição Lima from the Portuguese and serves as editorial director of the nonprofit media company Phoneme Media in Los Angeles.